The Le-Vel Lifestyle Getaway to Las Vegas was simply amazing!  There was a large group of Thrivers in attendance – many of whom had earned their FIRST Le-Vel Lifestyle Getaway!  This was an event to remember – so much fun and so many announcements.  Here's a recap of some of the highlights and the incredible announcements.
Thursday:
Thrivers began their Le-Vel Lifestyle Getaway by making their way to Vegas and checking in to the beautiful Wynn Las Vegas.  The resort had everything you'd want in a Vegas vacation – A+ dining, beautiful pool areas, a hopping casino, night clubs, shopping, gorgeous surroundings and luxurious rooms.  Checking in to the Wynn and walking through to the Le-Vel Hospitality area it was easy to see that this getaway was going to be a treat!
Friday:
From noon to 3pm, Friday kicked off the first Thrive and Drive event at Fashion Show Mall, just across the street from the Wynn.  Wow!  What a day!  Thrivers registered to drive luxury cars from Lexus, Mercedes, BMW, Cadillac, Audi and Tesla – all included in Le-Vel's Auto Bonus.  To see the cars is one thing, but to get into them and take them for a test drive really made the Auto Bonus real.  A Le-Vel themed lounge area with music, food and cocktails set the stage for a fun day in the Nevada sun.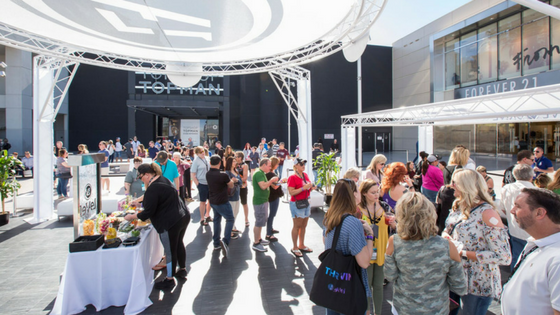 After Thrive and Drive it was time to enjoy a leisurely afternoon at the resort and then get ready for the Neon Party.  Thrivers dressed in bright neon colors took advantage of photo backdrops and photo opps with Las Vegas showgirls while waiting for the ballroom doors to open.  The anticipation rose and then the doors opened to music, drinks, dancing and stage performers as the room filled with neon.
Drew Hoffman, Jason Camper and Paul Gravette took to the stage for some major company announcements and videos.  Here is a quick summary of what was announced –
Le-Vel Auto Bonus 2.0: Tesla and Audi have now been added to the car plan! And now we've added Auto Elite, a 2nd level of car bonus qualification too! Auto elite qualifiers receive $1,600 a month and custom bespoke LV travel bags.
Thrivin' Magazine Spring 2018: Congratulations to the featured promoters of the spring 2018 edition!
Le-Vel Shopping Cart 2.0: Want more options? Now you've got them! Custom choices of DFT and Thrive Mix are now available for Thrive Experience Packs and Promoter Upgrade Pack orders.
The Rise and Thrive of Andy Roddick: Coming March 2018, see the "Rise and Thrive" story of the legendary professional tennis player, Andy Roddick!
Thrive PRO Bars: Le-Vel's protein bar, Thrive PRO is now on sale!  Order your bars in Cinnamon Roll and Birthday Cake flavors while supplies last.  Additional Lemon Meringue  and Cookies & Cream flavors also coming late spring 2018!!
Thrivepalooza: This event is going to be epic!  It will include a private concert by one of the biggest names in the music industry. Make sure you've made plans to attend Thrivepalooza, the craziest and most fun event Le-Vel has ever thrown! Tickets will go on sale shortly; book your hotel room now.
Saturday:
Another day of stunning weather and fun at Thrive and Drive!  Thrivers took to the pools, the casino and the shops to enjoy their free time.  Later in the evening, VIP's got ready for their VIP surprise event. Private transportation took VIP's for a trip down the Las Vegas Strip through all the lights and crowds.  Then they arrived at The Palms Hotel and Casino and took an elevator ride to the top of the tower for cocktails and a live band.  VIP's enjoyed Italian fare and had a chance to catch up with each other as well as Le-Vel leaders Paul Gravette, Jason Camper and Drew Hoffman.
Once Sunday came around, it was time to leave Las Vegas.  One last lazy morning in the suites at the Wynn and Thrivers said their goodbyes and parted ways for home. This was certainly a Le-Vel Lifestyle Getaway to remember – Viva Las Vegas!!!